OPINION: MLB's Arizona Plan is Just Selfish
by Brian Garland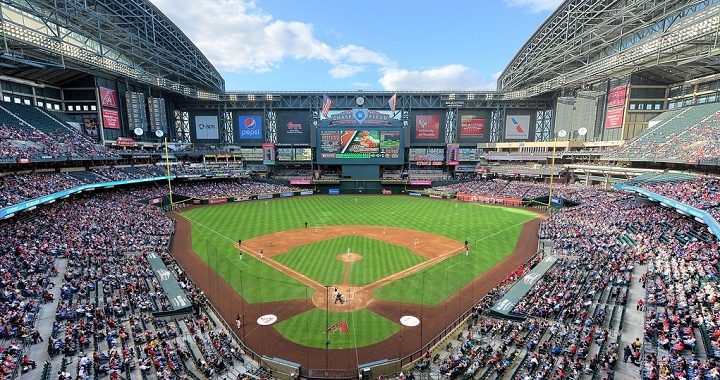 Caption: Chase Field in Phoenix, Arizona, home stadium of the Arizona Diamondbacks. It is a proposed site for regular-season games.
Desperate to recoup funds lost to a COVID-19 cancellation of the 2020 Major League Baseball season, owners and executives released the worst-possible solution: a regular season held exclusively in Arizona. 
This past week, owners and representatives from the four major professional sports leagues met with President Donald Trump for a virtual conference call. Their objectives: estimate the pandemic's impact on the sports seasons and form a backup plan for a return to normalcy.
MLB's proposal surfaced over the weekend with a shortened season beginning as soon as May with no additional Spring Training for players. Regular-season games would be hosted at neutral sites across Arizona such as Chase Field, the home stadium of the Arizona Diamondbacks, and the ten MLB-regulation ballparks in Arizona that teams already use for Spring Training. No fans would be allowed and no need to travel by plane. 
The first failing of this proposal is a lack of player safety oversight. How would the players make it to Arizona? Flying MLB personnel from their homes to Arizona is still unsafe, and driving them would also leave them vulnerable to the virus. There are at least 100 active players and coaches total in a typical MLB game, most of them huddled in dugouts within six feet of one another.
Recent cases of NBA players testing positive for the virus also suggest that the proximity of players and their sharing of equipment such as game balls and towels, make sporting events dangerous while the threat of the coronavirus persists. 
As of April 8, the total of confirmed coronavirus cases in the United States is 430,000, more than any other country in the world. Though nowhere near Washington, Massachusetts and New York, there are roughly 2,700 cases in Arizona. Center for Disease Control (CDC) and MIT studies report that hot weather like in Arizona is inconclusive to stop the spread of the virus. Countries such as Iran and Australia continue to suffer from the virus despite high average temperatures and humidity.
Baseball players often share bats, gloves, balls, and drinking fountains in addition to sitting and standing close in dugouts and on the field. Even drastic changes to these customs leaves risk of exposure. The second risk to player safety is less obvious though significant. Since MLB cancelled Spring Training in March, players have been out of their training routine for over a month. Some players never received more than a week of workouts before the cancellations began.
The current MLB proposal leaves no room for make-up Spring Training, and throws players into the regular season starting in May. In the absence of an organized training routine, players are left vulnerable to dangerous injuries if the regular season started immediately.
In 2011, a lockout delayed the 2011-12 NBA season until Christmas. However, the end of the lockout on Nov. 18 allowed players the opportunity for organized team workouts for almost a month before the season went underway. MLB's proposal lacks this grace period, and will leave players less time for organized workouts compared to the NBA's last-minute lockout resolution. 
There are too many holes in the plan for minimal gains. Having no fans at ballparks and only games in Arizona or on television (if that) is an ultimately compromised fan experience. If the games are on television, would MLB's harsh lockout restrictions still apply if fans cannot attend games? The local and national networks would also have to comply with this plan to make it work. Would that mean local announcers also have to travel to Arizona like they would normally, or would they have to watch remotely like on the radio? 
In an ideal world, where money is not an issue, MLB would have cancelled the 2020 MLB season until further notice. It is selfish to push on the players who are out of practice and left in the dark on whether they must turn around and play baseball in the coming weeks. It is also ignorant of the severity of the coronavirus pandemic in the United States where there are no vaccines, test kits or masks. There are overcrowded medical facilities, a steady rise in confirmed cases and millions of citizens who lack health insurance due to layoffs. 
President Trump demands a return to normal, but it is not possible right now. In an emergency coronavirus briefing on April 6, he claimed that "things were going to get better soon". However, scientists conclude that the peak of coronavirus in the United States is yet to come while we approach the half-million mark in confirmed cases.
I want coronavirus contained long before I want baseball back. The risks of this proposal far outweigh any benefits. 
MLB's owners and executives are going to lose money, but this is just selfish. It's selfish to the players and coaches and to the workers who will have to scrub the ballparks clean to make sure no one else gets sick. More importantly, it's a slap in the face to medical professionals, caretakers and researchers working tirelessly to stop one of the worst pandemics in human history. 
Put the bats away.